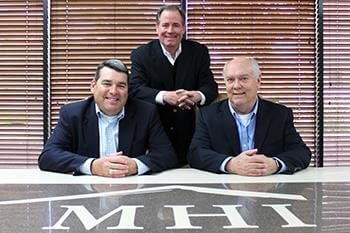 MHI Names New CEO, President
December 5, 2018
McGuyer Homebuilders, Inc. (MHI) has promoted two of its longtime executives to the company's top positions.
Founder Frank McGuyer announced the promotions. McGuyer has served as Chief Executive Officer (CEO) since establishing the company in 1988. He will continue to serve as Executive Chairman of MHI's Board of Directors and will remain active in the business.
Gary Tesch is transitioning from MHI President to CEO. A certified public accountant, Tesch joined MHI in December 2000 as Chief Financial Officer and was promoted to President in April 2010. As CEO, he will lead the company strategically going forward in all areas of business.
"Gary will continue to lead MHI and help the company on its current growth and profitable trajectory throughout the state of Texas," McGuyer said.
Tesch has more than 30 years of financial, operational and management experience in both real estate and public accounting.
Denny Garrett is succeeding Tesch as President. Garrett joined MHI in 1996 and has served as Region President of the Dallas-Fort Worth, Austin and San Antonio divisions since 2004.
"Denny's promotion is in recognition of tremendous and profitable growth in these markets," McGuyer said. "Denny will continue overseeing operations for his existing markets and will now oversee Houston operations, as well."
Garrett began his homebuilding career in 1980 at General Homes. He was initially hired as a Sales Manager for MHI and promoted to Division President in Dallas-Fort Worth in 1999.
McGuyer Homebuilders, Inc. (MHI) is a privately held Texas homebuilder that is consistently recognized as one of the nation's top homebuilders. MHI builds in the four major Texas markets – Houston, Dallas-Fort Worth, Austin and San Antonio – offering award-winning designs under its signature brands – Coventry Homes, Plantation Homes, and Wilshire Homes. While each brand has a distinct identity, all share MHI's standard of innovative design and energy-efficient construction resulting in a home for the generations. Since its founding in 1988, MHI has built more than 50,000 homes for Texas families and holds a 98 percent customer recommendation rating by exceeding customer expectations through quality service, construction and value. MHI's "Built Around You" philosophy allows its buyers to customize their homes for their own individual tastes, which allows MHI to differentiate themselves from their competition. For more information, visit www.mcguyerhomebuilders.com.
For more information on what MHI offers in Texas, visit www.coventryhomes.com, www.plantationhomes.com and www.wilshire-homes.com.